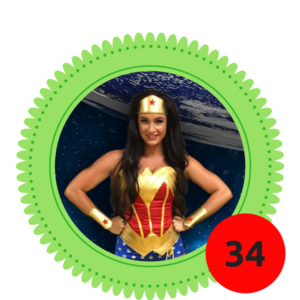 ABOUT MY FAMILY
My life-giving family gave me exactly that—the gift of life, and for that I will forever be grateful. My adoptive parents were the definition of bravery. When they took on the role of foster parents and welcomed me into their home, they knew I would face challenges, and, yet, they did it anyway. They made a lifetime commitment to me and to love me for who I am. I must admit, I flustered them often, and they embraced me for who I was even though I was stubborn and wildly different than other kids.
FAMILY STRENGTH
Our strength is faith. Oddly, I always seemed to have more than my mom and dad, never fearing what was ahead. We have the strength of knowing that things will always work out; that regardless of the circumstantial now, we can look to a future of betterment, of growth, of immense purpose.
FAMILY CHALLENGE
At times my family truly does not understand from where I am coming. They do not understand that my anger is not anger; that it is secondary to the permanent brain damage. I do not want to feel out of control; I need you to help me put things back in order. They also have difficulty remembering that my body wears out quickly. It may appear as though I am not putting forth effort, but really, I am exhausted, and there is nothing left but sleep.
FAMILY WISH
I have a deep desire that people would truly want to understand my diagnosis. If we are telling you that we struggle with something, we are telling you so that you recognize our behavior, not so that you give us sympathy or pity. We want to give our best. As you know, we want nothing more than to make you happy, but there are just times we cannot meet societal standards, and that is OK. We deserve to be understood, and we deserve to be recognized as a real diagnosis. Yes, we are people first, but what we face is genuine, and we want you to listen when we share with you our journey.
FAMILY ADVICE
It does not matter what situation you have faced or are facing now, because God has the power to use your battle for your good and His Glory. Every single one of us has a struggle, but the beautiful things are the lessons that follow, the compassion that it can instill. A diagnosis does not have to be an entrapment, a door wide open to be a light for others who feel all alone. Be that light, and never lose hope.
fllusSave
Save
Save
Save
Save
Save
Save
TAKE A STAND AND JOIN US!
Red Shoe Rock Virtual International Relay is now in it's 4th year. We are excited to share all that we are learning and have learned about nuerodiversity with you.
IF YOU ARE A PERSON WITH FASD, A FRIEND, FAMILY MEMBER or PROFESSIONAL consider joining us for a day of RUNNING around the world with Mackie and Furry.