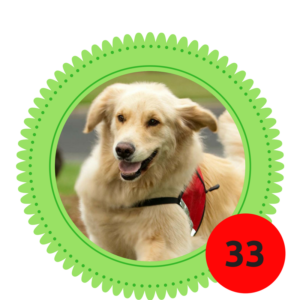 ABOUT MY FAMILY
Hi, I'm Chancer and I became the first service dog placed with a child living with FASD. The organization that trained me is called 4 Paws for Ability and they have placed many more FASD service dogs around the world for children living with the challenges of FASD. My boy, Iyal, is now a young man with a new dog named, Quinn. And the man, Iyal is working at a food store and doing a great job as a responsible adult. I am so glad he and I were able to "grow up" together!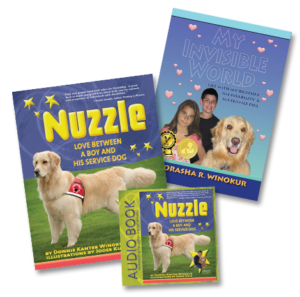 As a puppy I lived with my mom and dad and then I was adopted by a family who neglected me. I don't think they meant to, but I was very, very sad. And lonely. Finally, I got rescued by 4 Paws for Ability and they decided I could work with my very own boy. His name is Iyal Winokur only he is no longer a boy, he is a man with a different service dog named, Quinn. And Quinn has a different job with him than the one I had.
I guess I am a dog angel now, I joined a lot of other great service dogs at the Rainbow Bridge. My family was all with me when I went on this new journey and they were very sad that I had to go so soon. Sometimes I still feel my boys heart in the love he will always have for me.
Quinn is my new little brother and he is doing an pawsome job taking right over in my pawsteps. 4 Paws for Ability was right when they took a chance on me to be a service dog for a child living with FASD. Both Iyal and I are second chancers. Iyal was my boy and my handler was his mom, Donnie. Some of you know her. She speaks out for people like Iyal and I barked for him. Iyal decided I could participate instead of him. He's busy getting on with his life – He works, is very involved with sports and  hangs out with friends.  And of course Quinn goes just about everywhere with Iyal and his family. Still, if Iyal becomes upset, Quinn is there to comfort him and hold him until he gets himself back together. I personally think I was a good dog trainer for my little brother. And if I do say so myself, training Quinn how to help my mom and dad was REAL important, they need help filled with fur love too. I also know that even though I am chuffa chuffing at the rainbow bridge, my family will always be my family… because REAL FAMILIES are like that even when we're not together we stick together like peanut butter.
FAMILY STRENGTH
My big furry body and happy and calming prescense gave my boy the opportunity to feel safe enough to be his OWN boy. Now that he is a man, I am proud of what I was able to do. I comforted him when he was overwhelmed or upset and I kept him safe. He could always count on me.
FAMILY CHALLENGE
Take my service vest off and I am OFF DUTY – all the things a good service dog does not do – well I try doing them when I am not working… leave me your sandwich on the table please. Uh huh? What sandwich I didn't see a sandwich. That stuff on my mouth? Oh, it was always there.
FAMILY WISH
That having a dog like me was not so expensive for families and special kids – that someone would figure this out – MORE DOGS – MORE KIDS.
Woof Woof and I wish I could have stayed longer.

FAMILY ADVICE
The loss of a service dog is significant to the whole family. Having a younger service dog in place when I retired made a much easier transition for the whole family, but especially my favorite person in the whole world, Iyal.
Licks and Swishes
Four Paws Forever, Chancer
Websites:
Email:
MY NEW BOOK WILL BE RELEASED ON AMAZON ON AUGUST 22 – PREORDERS ARE WELCOME

Save
TAKE A STAND AND JOIN US!
Red Shoe Rock Virtual International Relay is now in it's 4th year. We are excited to share all that we are learning and have learned about nuerodiversity with you.
IF YOU ARE A PERSON WITH FASD, A FRIEND, FAMILY MEMBER or PROFESSIONAL consider joining us for a day of RUNNING around the world with Mackie and Furry.