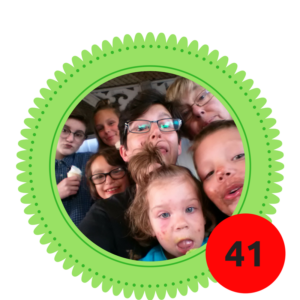 About our Family:
Our family is complicated. I am a single parent raising 5 children, two children are biologically mine, and three children are kinship.  I am raising my brother's 3 children—two arrived in 2014 and another came in 2016. And my mother is 70, has a brain injury and moved in with us in July 2016 to assist with the children.  Our family ages range from 2 to 15 years old and they are all awesome kids that live with hard challenges like anxiety, ADHD and likely to be diagnosed Borderline personality disorder, ADHD and FASD, gluten/dairy free and being assessed for sleep apnea, Autism, ADHD and FASD and one is being assessed for FASD and further medical issues.
Family Strengths:
Determined and strong
Family Challenges:
Many appointments for all the children, often out of town and I do not drive
Family Wish:
A vacation that I can afford, with support for the high needs and more respite for me (someone who can watch all the kids to give my mom and I a break.)
Family Advice:
Ask for help when needed and its ok to be human sometimes.