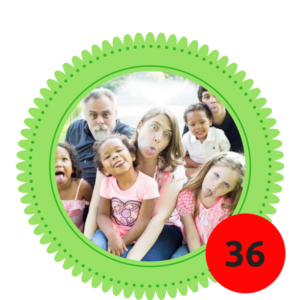 About our family
My husband Doug and I had two children together before becoming foster parents. Through that journey we were blessed to be able to adopt three of our former foster children. Our family also includes 3 dogs, along with our oldest son's girlfriend and her two dogs! Together we have the diagnoses of Fetal Alcohol Disorder, ADHD combined type, Post Traumatic Stress Disorder, mixed receptive-expressive language disorder, frontal lobe and executive functioning deficits, adjustment disorder with mixed disturbance of emotions and conduct, depression, Sensory Processing Disorder NOS, and Neurobehavioral disorder with facial features (alcohol unknown).
Family Strength
Our family strength lies in the fact that we are able to laugh with each other. I tell people all the time that sarcasm is our love language! Our kids are so funny, and we will often use laughter to lighten a tense situation.
Family Challenge
Our biggest challenge has been that, despite receiving every service offered to us thus far, we have not been able to get our most challenging child to see a psychiatrist for medication to control rages and destructive tendencies. Because our youngest children are on state insurance due to being adopted, we have had many hoops to jump through to be able to get to the psychiatrist. Without medication, this child rages daily which leads to physical violence and safety issues outside the home. Additionally, we struggle with broken and damaged property and home on almost a daily basis.
Family Wish
That everyone would be able to be safe from harm and to be able to take a sensory friendly vacation together that everyone (including mom and dad) can enjoy!
Family Advice
Don't try to do this alone. Find support groups and support systems wherever you can. Special needs families need all the support they can muster…this is the toughest job you'll ever love!
Save
Save