About our family 
Timothy was adopted from Russia in 2009 at two and a half years old.  I knew at the time of his adoption that he would be somewhere on the Fetal Alcohol Spectrum.  Having had a foster brother with FASD I thought knew about it going in.  But, if you've met one person with FASD – you know about one person with FASD.  So in reality I didn't know as much as I thought I did.
Family strengths
Timothy and I have taught each other so much – not just about FASD but about being a good person, and about how to create an accepting and inclusive home and community.  We look at the world together now – each from our own different point of view – and together that view is so much larger and more beautiful than either alone could be.
Family challenge
Helping other people to see that different does not equal less than or bad is a wonderful purpose for us both but it is also hard.  Some days you just don't want to teach or advocate – you just want to be. It sure would be nice to find more people that just get it and don't have to be taught, led or coaxed into a wider point of view and understanding.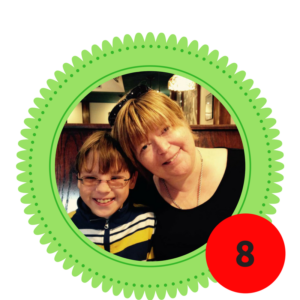 Family wish
That all people realized every single brain is "normal" for the person that has it and the most "disabling" thing about being different isn't the difference itself but how social systems are set up to only work for one way of being.
Advice for others from our family
Being "normal" is over-rated.  Go ahead and live out side of the box.  But in order to do that you have to be able to see what the box is – to get rid of nonessential expectations and focus only on those things that really matter.  Life outside the box is beautiful!  It's worth the effort!
You can find more stories and thoughts from our family at:

Save
Save
Save
Save
Save